In this year's Top 25 MEP Contractor's ranking we used both an objective and subjective approach. We applied a process where in we weighed in more on the value of the number of projects completed and how healthy a company's project pipeline is.  With the questionnaire notwithstanding, there were several other external factors that needed to be considered though. Transparency is one of them.
The questionnaire that we send out is designed to acquire all the essential details to make an informed decision. Key point being the more the information, the better the ranking. As always, not everyone supplied all the information. And, not all of them participated in the list. However, we still felt the need to include a few. This year you will see a few new contenders competing for the top 25 MEP Contractor's list. We all know the market has been  following a Darwanian trend. By Darwanian trend, we mean survival of the fittest. The competition now is cutthroat!
Big players have dissolved, which in turn has made way for new players such as SESCO. In this year's list too, we have carefully considered the market dynamics and also sought advice from a few external expert consultants.
Following uncertain times due to oil price, cash flow restraints and project delays, as the economy has continued to recover, construction projects have slowly gained momentum. There is a push for mega-projects and infrastructure developments, as well as recent investment into the hospitality market. Thus, the need and opportunities for MEP services are abundant.
The MEP Conference held in May this year revealed that the industry's future outlook was optimistic; however, the introduction of VAT has impacted all segments of the economy, leading to a fundamental change in the way businesses operate across the region. The conference also indicated that the MEP sector can prepare for a positive growth, combating past issues and ensuring they don't recur.
I thank all participants for exercising due diligence in populating the questionnaire.
Once again, the list is debatable and you are most welcome to send in your thoughts and suggestions. After all, we are all here to learn from each other!
1. Voltas
Jayant Balan
Executive Vice President & Chief Operating Officer – International Operations Business Group (Voltas Limited)

Number of years in his role: 3
Number of years in the company: 19
Number of years working in the Middle East: 3
Last year, Voltas raked up revenues of up to $1bn. This meant the India-headquartered Tata-backed company was very busy completing a few projects between April 2017 and May 2018. Some of these projects were Emirates Pearl Hotel (MEP works), Ferrari World Extension (MEP and ride vendor support), both in Abu Dhabi, DWTC Phase 2 in Dubai, Kempinski Hotel in Muscat, Oman, and several others across the GCC.
The company claims to have more than a billion dirhams worth of contracts in their order book.
Talking about projects, Jayant Balan, Executive Vice President & COO – International Operations Business Group, Voltas Limited, says: "We are working on one of the prestigious and critical packages of Expo 2020 development and we anticipate that there will be further opportunities and awards of extension packages and country pavilions as well.
"In addition to Expo 2020, there are major developments lined up in the coming year in hospitality, retail and tourism segments which we would look to tap."
Balan says that the UAE is the market with the maximum opportunity followed by Oman and Bahrain. However, he foresees that with awards increase in the lead up to Expo 2020, there will very likely be increased pressure on the availability of material and manpower driving up costs and potentially delaying deliveries. He confidently says that the firm has "anticipated these challenges and is well prepared to deal with them."
Voltas has developed a system of competency assessment (Technical, Behavioural & HSE) for each employee trade/job type and thereafter the firm developed a T.N.I (Training Need Identification) matrix for each employee. Balan adds: "We have developed in-house test centres and assessment tools on an IT enabled platform to help us map the skill gaps for each employee against a predefined skill matrix." The number of qualified MEP engineers working for the firm in the GCC is around 500.
2. Alemco
Nathan Hanns
General manager
Number of years in his role: 14
Number of years in the company: 16
Number of years working in the Middle East: 16
Due to the cutthroat nature of the MEP market securing profitable works is still a challenge. This is what Nathan Hanns, general manager of ALEMCO, says. However, that has not stopped the company into expanding its operations into Oman for new project opportunities.
ALEMCO has about 363 staff with 1,359 labourers that include UAE and Oman. Some of the projects completed by ALEMCO last year are BP Khazzan in Oman, Cargo Mega Terminal Expansion in Dubai, Bulgari Resort Hotel & Marina Village in Dubai, and Reel Cinemas The Dubai Mall.
The major MEP project wins for the company are One Za'abeel and Jumeirah Living Marina Gate 3 both in Dubai, Liwa Plastics Industries in Oman, totalling more than half a billion dhirams.
Hanns says: "As a result of our realistic conservative approach we are financially healthy company.  Our relationship with our clients and supply chain mean we are in an attractive position to secure and delivery large scale MEP projects. There are very few MEP contractors in this position and so opportunities will lie with a very few."
In terms of health and safety, the company carries out monthly safety initiatives and live demonstrations on safety across all project sites; regular celebration of safety milestones and safety award ceremonies with staff recognition; regular health and dental checkups on camps, offices and sites; and health awareness campaigns for diabetes, men's health, and cancer awareness sessions.
ALEMCO's staff development and training programme incorporate on the job training, classroom practical training, stretch assignments like welding/brazing and fully equipped assessment centre, which allows employees to attend workshop with various skill-set training apparatus.
3. James L Williams
Ramy Boufarhat
Chief operating officer
Number of years in his role: 5.5
Number of years in the company: 9
Number of years working in the Middle East: 9
James L Williams (JLW) manages approximately 7,500 employees; 2,500 as direct employees, supplemented by 5,000 specialist sub-contractors under its
management.
The company recently completed the MEP works of The Oberoi Resort in Ajman that consists of 113 guestrooms and penthouse suites, including 15 two and three bedroom villas with an individual pool. The property sits on a 290m beach front.
Major project wins for JLW Middle East are the Expo 2020 Dubai Sustainability District project, Masdar Neighbourhood Housing 2, Abu Dhabi, and ICD Brookfield Tower, Dubai.
Ramy Boufarhat, chief operating officer (COO) of James L Williams Middle East, says: "We are looking at diversifying our project base to include more infrastructure projects over the next few years, following recent successful delivery of large scale infrastructure works in Dubai. We feel we are well placed to grow our experience on infrastructure projects particularly as the UAE continues to invest heavily in this sector."
Boufarhat believes that the firm's core strength is in design and build and EPC capabilities. However, the company is still looking at diversifying its offering in the market. "We recognise that there are challenges ahead of us with clients and developers tightening up on their budgets, which has made us focus more by becoming more efficient and remove inefficiencies that we inherited during our recent growth," Boufarhat adds.
Talking about the challenges, Boufarhat says: "Project awards have become so cut throat, with very lean margins. Not all clients are differentiating between tier 1 and tier 2 MEP subcontractors as they used to. If a client has a large fast-track project, a complicated project, or a project that that requires highly technical engineering to solve issues, they would tend to use a technically apt tier 1 MEP contractor to ensure prompt completion of the work with a quality product that fits the intended design. We compete for works in this realm.
"Unfortunately, awards of projects are being focused commercially and driven to a substantially low budget which for us means we wouldn't be able to secure the project without risking losses on the project. Our focus is on projects where there are complexities requiring contractor led technical resolutions to ensure that fast track construction programmes are met."
Boufarhat admits that project cashflow remains a challenge in their business. He says: "You need to be able to accurately forecast the cash flow for your project. Delays in payments have adversely affected our ability to achieve and deliver planned project targets."
4. Al-Futtaim Engineering
Murali S
Managing director
Number of years in his role: 5
Number of years in the company: 20
Number of years working in the Middle East: 20
Through seven business divisions, Al-Futtaim Engineering offers a wide variety of products and services for the construction industry from air conditioning, building products, control and life safety, elevators and escalators, FM, MEP, scaffolding and access solution.
Some of the projects completed by Al-Futtaim Engineering are Serenia in Dubai (MEP works for a branded residential complex of 250 apartments), Holiday Inn in Dubai (MEP works for the 545 room hotel development), MEP works for Abu Dhabi Islamic Bank in Abu Dhabi, among others.
Murali S, managing director of Al-Futtaim Engineering, says that the firm sees continued opportunities in the current market owing to Expo 2020 and other development in real estate & transportation sector. He says: "We see the new projects as an opportunity to bring in productivity efficiency in our business through prefabrication/modularisation, increased use of BIM & adopting new technologies."
5. BK Gulf
Basheer Massad 
Managing director
Number of years in his role: 1.3
Number of years in the company: 1.3
Number of years working in the Middle East: 10+
In summer 2018, the company appointed Basheer Massad as the new general manager, who has over 24 years of experience in the UAE working on major construction projects.
Massad says: "Our works in the last 12 months demonstrated our consistent performance in delivering success to our customers through our commitment to excellence. This commitment was recognised by government organisations and industries which lead to [us] winning multiple prestigious projects. We worked on a variety of major projects in a wide range of sectors: commercial, airports, education, heritage, marine and ports, hospitality, and residential. Working in such a broad spectrum of projects is a testimony of the knowledge and competency of our staff that were developed through structured in-house and independent training."
The company completed several projects such Dubai Mall Fashion Avenue expansion, Container terminal 4 and Address Downtown Retrofit.
6. EFECO
Gavin Appleby
Managing director
Number of years in his role: 1.3
Number of years in the company: 1.3
Number of years working in the Middle East: 10+
Emirates Falcon Electromechanical Company (EFECO) in May 2018 completed 25 million safe working hours. In order to keep the momentum and to secure employee engagement, the management team rolled out a full HSE Training Program for all project based teams to ensure they are up to speed with best practices to ensure our workforce are safe.
From April 2017 to May 2018, Arabtec-backed EFECO completed the MEP works, including a district cooling plant, for maintenance and repair in a military overhaul facility in Al Ain. Another project completed was Dharan Residential Community, which involved the construction of 380 villas in Al Dhahran.
Gavin Appleby, managing director, EFECO, says: "We have many opportunities not just to grow the business but to drive efficiencies and improve performance. Dubai's Expo 2020 is one of the single biggest opportunities for EFECO within the next 12 months. Expo 2020-related development projects are expected to exceed $33bn, with more than 2,000 structures being built in the UAE."
He adds: "We believe that the off-site manufacture of MEP modules represents the lowest risk method of delivery and installation of MEP services to a site."
Gavin joined Arabtec Group in May 2017. He is an affiliated member of Chartered Institution of Building Services Engineers.
7. China State Construction Engineering Corporation Middle East
Chen Qingguang (L), MEP acting GM and Zhu Jianchao (R), VP
Number of years in the company: 16
Number of years working in the Middle East: 16
The current MEP project pipeline for China State Construction Engineering Corporation Middle East (CSCEC ME) stands at $707m (AED2.6bn), said Chen Qingguang, acting GM, MEP division in an interview with MEP Middle East last month. Some of the MEP projects CSCEC ME is involved in are the DSO Silicon Park, ACT one ACT two apartments developed by Emaar, located in Business Bay downtown, three five star hotels at the Expo site, and the Abu Dhabi MTB project.
  CSCEC ME started its operations in 2003. Having executed globally some of the complex projects in various specialised disciplines such as airports, financial centres, super high-rise buildings, commercial and residential towers, architectural and steel structures, the company is used to operating in different territories. CSCEC ME has four divisions: building, MEP, infrastructure and steel.
Qingguang said: "The growth has been increasing, from the end of last year. We have seen many tender invitations. There are a lot of opportunities in the market."
Summing up the projects completed in 2017, Qingguang said: "Last year, we completed around $136m (AED500m) worth of MEP projects."
CSCEC ME currently has around 300 MEP engineers in Dubai.
Talking about the firm's objectives, Zhu Jianchao, VP, says: "The timely completion and handover of our projects will reaffirm CSCEC's success and achievement in the Middle East."
8. Al Shafar United
Ashraf Samy Botros
Managing director
Number of years in his role: 11
Number of years in the company: 29
Number of years working in the Middle East: 32
Al Shafar United (ASU) currently has around AED923m job in hand, with the company expecting  AED 200m more worth of projects. In 2007, ASU was launched as an independent electro-mechanical limited liability company under the umbrella of ASGC, which charged to look after electro-mechanical
contracts.
Some of ASU's project wins in 2018 are thematic district for Opportunity Expo 2020, DIP (scope of the work includes electrical, plumbing, HVAC, fire protection, and BMS works of 33 pavilions), sustainability pavilion (scope includes 2B+G+2+R, electrical, plumbing, HVAC, fire protection, BMS including solar canopy), and Route 2020, North Red line Metro (scope includes four elevated stations, electrical, plumbing, HVAC, fire protection, BMS).
Talking about projects and opportunities, Ashraf Samy Botros, managing director, says: "The biggest opportunity is to use our high momentum of success in the preceding projects to build upon in the ongoing iconic projects such as thematic district, Route 2020, sustainability pavilion, Il Primo, among others.
"Our main goal is to always keep on improving and gaining more prestigious clients and work on more diversified projects and maintain and develop our associations with all our clients."
The number of qualified MEP engineers working for the firm is 293. The company's most important markets are UAE and Egypt.
Botros believes that the firm will continue to deliver high quality service that meets the client's expectations.
He adds that ASU plans to maintain its lead in the MEP construction sector.
9. AE Arma-Elektropanç
Burak Ç. Kizilhan
CEO
Number of years in his role: 5
Number of years in the company: 10
Number of years working in the Middle East: 9
AE Arma-Elektropanç has around 500 qualified MEP engineers working for the firm, and 10 GCC nationals.
The major projects the company is involved in are Marsa Al Seef Phase 4, Bluewaters Wharf Retails, Al Maktoum International Airport, Wasl District and Abu Dhabi Marina District Projects.
Talking about the company's training objectives, Burak Ç. Kizilhan, CEO of AE Arma-Elektropanç, says: "To develop people there should be a customised training program for each employee as per their needs. Such a kind of training program that has targets for the right employees to get correct training on the right time is being prepared.
"The necessary planning for training managers has been done to develop the interview competencies, respecting the candidate's personality and teaches them interviewing techniques to represent our company in the best way."
Kizilhan believes that Expo 2020 will drive the UAE's construction sector. The new tourism facilities, offices, residences, malls as well as new investments will make UAE an important commercial and business centre in the region, says Kizilhan. This, the firm believes, will provide many opportunities in the upcoming years.
Kizilhan in an earlier interview with MEP Middle East said that the UAE is one of the most important country for the company's international operations. He said: "Since 2002, the UAE has played an important role for our growth strategy. We always make long-term plans for UAE operations and our diversified customers that include contractors and employees from Europe, America, Asia and the Middle East, which enable us to provide the best quality services in international standards."
10. Specon
Thrasos Thrasyvoulou
Deputy chairman and CEO
Some of the completed projects of Specon are Louvre Abu Dhabi, Al Habtoor City, and Mafraq Hospital Abu Dhabi. Specon is a Mechanical, Electrical and Plumbing (MEP) specialist, with vast experience in turnkey MEP projects.
With more than three decades of experience in the regional MEP sector, Specon's key personnel have delivered landmark projects including airports, hotels, hospitals, commercial and residential towers, universities, military developments, HV/MV substations and overhead
transmission lines.
The firm's experience spans all sectors of the construction industry and includes proven capability across the full spectrum of engineering services for buildings and infrastructure.
Specon holds in-house capability in high and medium voltage (HV/MV) and extra-low voltage technologies (ELV), as well as in the fields of rail and metro, energy and power, including renewable energy power generation (solar) and other green and sustainable solutions, and oil
and gas. Specon is involved in the Jewel of the Creek (pakage 8) project.
11 Al Sabbah Electro-Mechanical
Subhash Pritmani
Vice president for general management
The projects completed by Al Sabbah Electro-Mechanical (SEMCO) between April 2017 and May 2018 are International Secondary School, Ruwais, Abu Dhabi, CICPA Complex, Qusahwira, Abu Dhabi and Executive Floors in ADNOC Headquarters, Abu Dhabi.
In a June 2018 interview with MEP Middle East, Subhash Pritmani, vice president for general management at Al Sabbah Electro-mechanical Company (SEMCO), had spoken about  the challenges facing the sector. He said that the main contractor usually takes on a project at  very challenging price and time frame. And because of this the MEP contractor, which is part of this project, gets told by the main contractor of things being "missed out" on the project, such as civil works.
Despite the challenges, Pritmani claims that SEMCO is overall profitable company, with overall margins ranging from 5%-7.5%.SEMCO's unexecuted project list is around AED800m, with Dubai Hills Estate Regional Mall Car Park area at MBR City, Dubai and Parsons Regional Headquarters, at Zayed City, Abu Dhabi, being some of the projects in pipeline.
12. Al Shirawi Electrical & Mechanical Engineering Company
Medha Sukthankar
General manager
Medha Sukthankar, general manager, Al Shirawi Electrical & Mechanical Engineering Company, notices an increase in residential and hospitality projects in the coming years. This is quite evident with the projects the firm has completed in the last couple of years such as the 118 Downtown at Burj Khalifa District for Signature Estates, 2B+G+23+R Hotel Apartment Building in Al Nahda 1 for Al Hathboor Group (scope: HVAC), Proposed G+8 Floors Residential Building at Nad Hessa, DSO.
On the firm's training objectives, Sukthankar says: "The focus is on upgrading the knowledge, skills and abilities of our workforce to ensure effective job performance as well as help our people feel more fulfilled and satisfied at work."
The number of qualified MEP engineers working for the firm is 95.
Sukthankar adds: "Many of our engineers are involved with the ASHRAE organisation."
13. Anel Group
Rıdvan Çelikel
Founder and chairman
Anel Group's chairman Rıdvan Çelikel serves as a founding member at ETMD (The Electrical Installation Engineers Association). He says that as far as the Gulf region is concerned, the firm foresees several big projects to be awarded in the GCC. He adds: "Globally, we have enlarged our operations in Western Europe in the Netherlands and the UK, both of which require fresh and experienced resources particularly in the MEP sector."
The major MEP projects the company involved in over the next 12 months are Abu Dhabi International Airport Midfield Terminal Building (electrical  works),  Ain Dubai (Bluewaters) Terminal Building (MEP
works), etc.
Anel Group has been developing its own e-learning platform called AnelAkademi, for the technical, professional and personal development of its employees. Çelikel says: "We have two platforms for online trainings. One of them includes 430 outsourced programmes. The second platform contains training that are developed by our internal trainers. There are 203 trainings in four key categories: technical, compulsory, self-development and professional development."
14. Plafond

Dimitri Papakonstantinou
Managing director
Number of years in his role: 4
Number of years in the company: 7
Number of years working in the Middle East: 12
The projects completed by Plafond are Biotech HQ and HSBC (both MEP works), Double Tree by Hilton (MEP works, ceilings & partitions works), and MEP works at Al Rayyan in Sharjah. Fit-out and MEP contractor firm Plafond has around 1,325 full-time staff currently working for the company. The firm is also registered to the industry bodies such as Dubai Municipality, DEWA, Dubai Civil Defence, Society of Engineers and MEFMA (Corporate Member).
Dimitri Papakonstantinou, managing director, Plafond, says: "The challenges in the MEP sector are the same as the rest of the construction industry, such as delays in projects due to redesign, inefficiency in labour and general coordination. As an industry, we're definitely not the most efficient. Very few revolutionary or disruptive methods of construction are appearing. However, as a company we are fixated on minimising the impact of these issues as much as possible. We have a PMO office which is constantly measuring productivity and efficiencies, and relooking at what we can do to improve. Every project has a weekly dashboard which measures progress, productivity, safety, quality etc. We have also recently established a modular facility for our MEP division and are certainly seeing the benefits of prefabrication."
Papakonstantinou says that although there is a reasonable amount of work available in the market, conditions are still generally very competitive and margins are strained. He adds: "With the Expo 2020 in the horizon, projects are varying in size and scope.  We are currently working on several residential towers as well as commercial buildings."
The company's training programmes include: technical skills development training, soft skills training and health and safety training.
15. Future Metro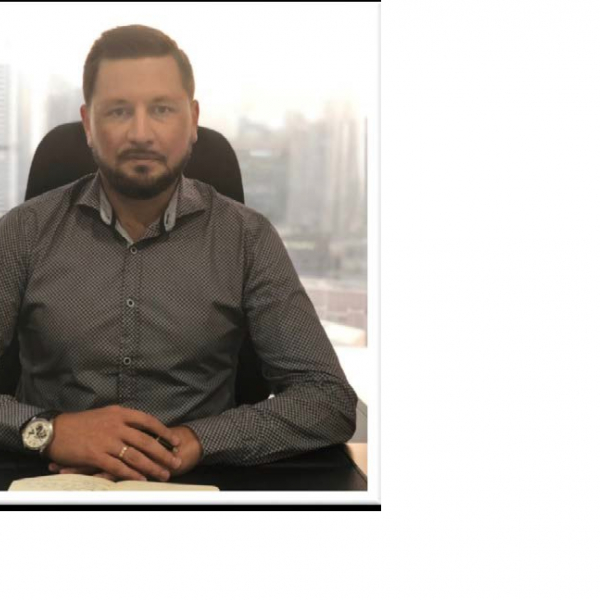 Aleksandr Shestakov
CEO
Aleksandr Shestakov was recently appointed as the CEO of Future Metro.  Future Metro plans to expand its customer base in the region by offering a range of complete MEP package with in-house ELV solutions.
Future Metro has served major industries such as aviation, defence, data centres, hotels, commercial and residential towers.
The company has been awarded an important mechanical, electrical and plumbing (MEP) contract for The Royal Atlantis Resort & Residences, located in the Palm, Dubai. Specifically, the company is the MEP contractor for a Residential Tower, which includes a gross floor area
of 70,000m².
The company's full time employees are over 2,800 and more than 110 work with the MEP team.
16. Commodore MEP
Commodore MEP is a firm that carries out mechanical and electrical installation works and delivers system solutions, i.e. air handling systems, cooling water supply, high voltage systems and back-up power supply, CCTV and access control, building management systems, fire alarm, and fire fighting systems, small power, and lighting. The company also provides design, supply, installation, testing & commissioning, and maintenance.
Commodore was established in 2003 to meet the construction industry's demand and it provides MEP solutions. Throughout the years, the company has delivered various types of projects such
as high-rise buildings, housing compounds, hotels, schools, and
infrastructure works. The firm was responsible for the MEP works at Dubai's La Perle theatre, launch in September 2017.
17. Elemec Electromechanical Contracting
K.D. Gopalakrishnan
Chairman & managing director
As per last year's data Elemec Electromechanical Contracting's ongoing MEP projects include Muhaisnah Community Housing, Innovation Hub at TECOM, and Mazaya Q-Line Phase 2 Project all in Dubai, totalling a value of AED245m. 
Since its inception, the company has undertaken a number of electromechanical projects within the Middle East including hotels & resorts, high rise commercial and residential buildings, mall and shopping complexes, industrial kitchen and laundry facilities, multispecialty hospitals, central cooling plants, schools and education institutions, car show rooms, and luxury villas.
The company had more than 100 MEP engineers working for the firm.
18. Al Turki Enterprises
Gulabsi Ratansi Khimji
Managing director
Oman-based Al Turki Enterprises has worked on projects such as the new head office for Bank of Oman, proposed dog kennel complex at Al Khoud, and The Wave Muscat project. The firm has a workforce of 7,000 people. The company's scope includes project management, procurement, fabrication, construction, commissioning and servicing of civil structural, mechanical, piping, coating, painting, electrical & instrumentation associated with oil & gas, among others.
The company's policies are guided by the board of directors comprising HH Sayyid Turki Bin Mahmood Al Said, director, Gulabsi Ratansi Khimji, MD and Chaitanya Gulabsi Khimji, director (HSE & Finance).
19. Horizon Gulf
Hazem Fraij
Senior general manager
Horizon Gulf Electromechanical Services was originally called as Sensaire Services. The company has built its reputation over a multitude of different projects spanning over more than 30 years.
Hazem Fraij, senior general manager, says: "Horizon Gulf is a sustainable, financially strong business that advocates environmentally and socially considerate decisions for its clients, employees, and the communities in which we operate. We promote our industry's growth by sharing knowledge and fostering engineering outreach."
The company started in 1983 as an air-conditioning installation and maintenance firm, and has evolved into a fully fledged building & engineering services contractor. The firm has completed projects such as U-Bora Towers, Shangri-la Hotel,  Aviation Club Hotel, Dragon Mart, and Conference Centre, Burj Al Arab, all in Dubai.
20. Brayan Group
Praveen Sarapure
Group director and CEO
Brayan Group has been around for a long time, with offices in Dubai, India and Africa. Being predominantly an electromechanical MEP company, the company has other interests in renewable energy, switch gears manufacturing, electrical panels, facilities management.
Summing up 2017, Praveen Sarapure, group director and CEO of Brayan Group, said: "The year 2017 was a good year for us. If you see, every year we pick on one theme of construction. The past year, we have built the most theme parks such as IMG Worlds of Adventure, Bollywood Parks and Hub Zero. Brayan was the main MEP contractor for all these parks. Theme parks have been our main project focus for the past two years."
21. Albonian International Electromechanical Works
Jamal Nachabe
Chief executive officer
A few of the projects completed by Abonian International Electromechanical Works are Form Hotel, 3 Stars Hotel, Proposed Labour Accommodation, Seddiqi & Sons Head Quarter, and Gallaria Mall 2 among others. The company caters to markets in Lebanon, UAE, Jordan, and Saudi Arabia. The firm has experience in high-rise buildings, multi-use complexes, specialised complexes like hotels, hospitals and shopping malls and specialised MEP projects like pumping stations, street lighting, and others.
The firm's services covers EPC as well as maintenance of heating, ventilation and air conditioning, district cooling, plumbing, drainage, water treatments, pumping stations, fire fighting, fire protection, telecommunications, networking, building management systems (BMS), low current, low voltage and medium voltage systems installation.
Jamal Nachabe, CEO, Albonian International Electromechanical Works, says that the firm is "finalising several big opportunities within a couple of months".
Albonian International started its operations in 1987 as a relatively small electromechanical contracting firm from Tripoli, Lebanon. In a span of 22 years Albonian International has grown into an international group with its headquarters located in Dubai.
Branch offices were created in Jordan, Lebanon and the United Arab Emirates during the period of operation to cater to the demands of each region.
The staff working at Albonian is 321, including engineers, with a total labour workforce of around 1,403. 
Some the company's key training objectives are to improve personnel's knowledge of the services that the firm provides, incorporate new technologies to optimise delivery and client satisfaction, and ensure that the firm keeps delivering high quality projects for its clients.
22. Emitech
Rahul Duragkar
Managing director
Number of years in his role: 7
Number of years in the company: 7
Number of years working in the Middle East: 14
In 2017, Emitech  managed to secure a revenue of $18m.
Rahul Duragkar, managing director, Emitech says that the relative cost of labour remains as the adequate portion of the total MEP contract value, which means that an increase in the labour rates in the present scenario has a profound impact on tender pricing. Strategic partnership with the major suppliers has resulted into a pricing edge with efficient services. This has facilitated flexible and extended credit limits.
Between April 2017 and May 2018, Emitech has completed the MEP works at CSDPI Pharma Factory Cum Office in Dubai, HVAC works at a Club Commercial and Residential Building in Dubai, HVAC works at Autism Centre, Abu Dhabi, among others.
The total number of qualified MEP engineers working for the firm is 33.
Talking about competitiveness in the UAE market, Duragkar says: "Limited development in other emirates such as Abu Dhabi, Ajman, and Sharjah as compared to Dubai has prompted local MEP contractors to enter the Dubai market, which also increases the competition. The start of 2018 has seen a reduction in activity and performance in the real estate market due to uncertainties around the impact of VAT that resulted in increased competition among the contractors. The developers are seeking to decipher its immediate and longer term impact by awarding the contract to the lowest quoted contractor. The profit margin is also tightened as Dubai moves towards affordable housing development."
Emitech's training and development activities include developing leadership and managerial skills, increasing productivity and efficiency, acquiring job-related knowledge, skills, and abilities, increasing innovation in strategies and processes, and improving quality and workplace safety.
23. Oman Technical Contracting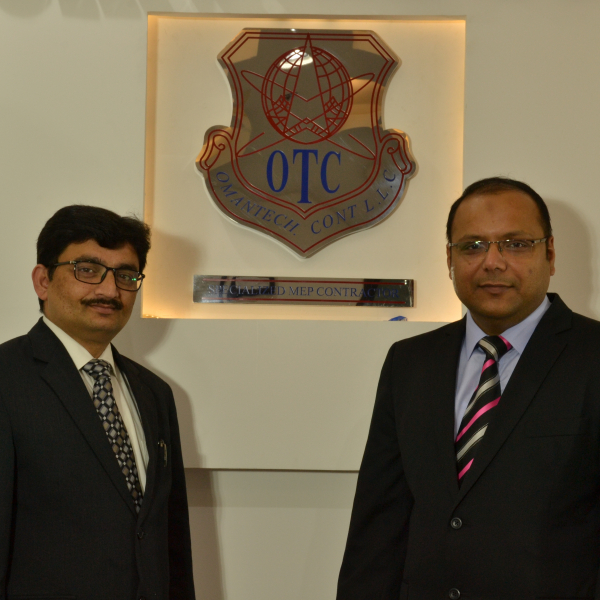 Syed Mohammad Arif (L), Chairman, and Mohammad Faisal Khan (R), Managing director
Number of years in the company: 12
Number of years working in the Middle East: 16
The major project wins for Oman Technical Contracting (OTC) firm in 2018 are The Address Hotel (supply and installation of MEP & ELV works), Al Qasr Hotel Phase 2 (refurbishment of MEP works), Latifa Hospital (supply and installation of MEP, medical gas and ELV works), among others.
The Sharjah-based company was established in 2005.
Following the bottom up approach, OTC has emerged as one of the most integrated company providing engineering services in HVAC, plumbing and electrical systems to residential buildings (villa & multi-storey), commercial buildings, hospitals, pharmaceutical companies, shopping malls, cruise liners etc.
The company was busy with he supply and installation of MEP and ELV works of a few projects last year such as Ortus Hospital in Dubai, Dar Al Kamal Hospital in Sharjah, among others. Some of the challenges facing the industry are cash flow due to delayed payment and shortage of skilled manpower in the market to fulfil the project requirements. The total number of qualified MEP engineers working for the firm stand
at 45.
Syed Mohammad Arif, chairman, and Mohammad Faisal Khan, managing director at OTC, say that the firm is currently focusing on all types of solar projects such as CSP, PU & rooftops. Currently, the company is in the process of handing over 200MW in 8 months.
Oman Technical Contracting is fully dedicated and focused on executing solar projects in the upcoming year, the firm stated.
24. National MEP
National MEP has been handling projects on a turnkey basis with progressive and innovative approaches to business. The company falls under Bin Butti International Holdings, with National MEP being one of its divisions.
Over the years, Bin Butti International Holdings has grown into a promising group of companies in Abu Dhabi. Bin Butti International Holdings provides value added products and services to its clients utilising the best human and capital resources along with the region's latest technologies.
The company is an active participant of Abu Dhabi Plan 2030 which is aimed at developing a global capital city and support the government's vision of building the city of Abu Dhabi as an environmentally, socially and economically sustainable community, as well as, a regional hub of business and industry.
The firm plans be a major player in the region, renowned for its integrated and diversified portfolio of products, solutions and services by exceeding our quality standards and clients' expectations.
The company worked on developing Mojumaat Workers City in Abu Dhabi. Mojumaat has an area of 122,500m2, situated about 20km from
Musaffah.
The firm offered its tenants fully furnished residential accommodation, catering and mess hall facilities, laundry facilities, 5,000m2 shopping mall, restaurants, recreational facilities, mosque and medical center, etc.
According to the company, Mojumaat Workers City was designed and developed to strategically align the organisation with the vision of the rulers of the Emirate of Abu Dhabi and the Executive Council to address the need to provide safe and decent housing to the ever-growing labour force in
Abu Dhabi.
25. Smart MEP Solutions
Saad Taher
Managing director
Number of years in his role: 20
Number of years in the company: 2
Number of years working in the Middle East: 30
Smart MEP Solutions CO SESCO is a relatively new entrant in the Middle East MEP sector.
Having founded Emirates Falcon Electromechanical Company (EFECO) in 2001, Saad Taher, managing director of SESCO, is not someone new to the MEP market. In an interview with MEP Middle East earlier this year, Taher said: "I started Smart MEP Solutions at the end of 2016, and again, the challenge is to start from the beginning. But now I believe the market really needs a new concept. A new way of doing MEP works."
He says that the traditional way of executing MEP is not correct. "That's the reason we call this company Smart MEP Solutions because we think it is the time to have new solutions for the MEP sector. We need to understand how to overcome problems, how to have better results, and how to be a team player in the construction sector," Taher said.
The firm focuses on developing and enhancing its offsite work and prefabrication modular system installation business. The number of qualified MEP engineers working for the firm is 25.
Talking about some of the challenges, Taher says: "Ridiculous competition in the market is driving prices dangerously low, which either is keeping us away or making us attain any new contracts with low margins and putting our business at risk."
For the latest MEP news from the UAE, Gulf, and around the world, follow us on Twitter and LinkedIn.